My research is focused on deve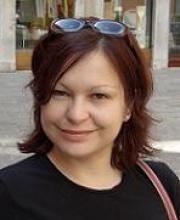 loping an Aristotelian theory of autonomous agency as distinctive kind of agential success, and exploring this theory's wider conceptual and normative implications. Further research projects include: nature and scope of practical knowledge; mental disorder and responsible agency; alternative conceptions of freedom; and the relationship between ethical and intellectual virtues.
I was educated at the Ecole des Hautes Etudes en Sciences Sociales (EHESS), Paris and the University of Sofia.
Over the past decade, I have taught and pursued research at the University of Cambridge in the capacity of: Research Fellow at Clare Hall, Director of Studies at New Hall and Downing College, Wellcome Trust Fellow at the Cambridge Faculty of Philosophy where I have been an Affiliated Lecturer since 2009. Since September 2013, I also hold a Lectureship in Philosophy at the University of Kent at Canterbury.
New book: Addiction and Weakness of Will. Oxford: Oxford University Press, 2013, 160pp., ISBN 978-0-19-964196-3
SELECTED PUBLICATIONS
Authored books
Addiction and Weakness of Will. Oxford: Oxford University Press, 2013, 160pp., ISBN 978-0-19-964196-3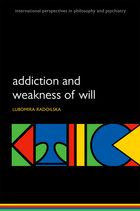 This monograph develops an Aristotelian conception of autonomous agency by focusing on limit cases, such as addiction and weakness of will. It offers a unified view of responsibility for actions and attitudes bringing together insights from volitional and non-volitional accounts.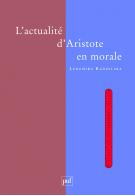 Aristotle and the Moral Philosophy of Today. (L'Actualité d'Aristote en morale), Paris: Presses Universitaires de France, 2007, 308pp., ISBN 978-2-13-056176-7
This monograph provides a critical examination of autonomy in connection to moral knowledge. Drawing on Aristotle's moral psychology, it is argued that moral judgments aim at knowledge; however, this does not undermine their action-guiding character.
Edited book
Autonomy and Mental Disorder. Oxford: Oxford University Press, 2012, 320pp., ISBN: 978-0-19-959542-6.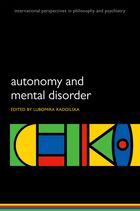 By considering instances of mental disorders where autonomy is apparently compromised, this anthology identifies and explores different kinds of emerging scepticism about autonomy and its significance.
Online papers
Addiction and Weakness of Will. Oxford: Oxford University Press, 2013, Chapter 5: Addiction and Weakness of Will: An Integrated Account

Immigration, Interpersonal Trust, and National Culture. Critical Review of International Social and Political Philosophy 2014, 17(1): 111–128
Depression, Decisional Capacity and Personal Autonomy. In Fulford, K.W.M., Davies, M., Graham, G., Sadler, J., Stanghellini, G. and Thornton, T. (eds.). Oxford Handbook of Philosophy and Psychiatry. Oxford: Oxford University Press, 2013, pp. 1155–1170
Akrasia and Ordinary Weakness of Will. Topicos 2012, 43: 25–50
Autonomy and Ulysses Arrangements. In Radoilska, L. (ed.). Autonomy and Mental Disorder. Oxford: Oxford University Press, 2012, pp. 252–280
Personal Autonomy, Decisional Capacity, and Mental Disorder. In Radoilska, L. (ed.). Autonomy and Mental Disorder. Oxford: Oxford University Press, 2012, pp.xi–xliii
(with K.W.M. Fulford) Three Challenges from Delusion for Theories of Autonomy. In Radoilska, L. (ed.) Autonomy and Mental Disorder. Oxford: Oxford University Press, 2012, pp. 44–74
An Aristotelian Approach to Cognitive Enhancement. Journal of Value Inquiry 2010, 44(3): 365–375
Public Health Ethics and Liberalism. Public Health Ethics 2009, 2(2): 135–145
Truthfulness and Business. Journal of Business Ethics 2008, 79: 21–28
Bernard Williams, Truth and Truthfulness: An Essay in Genealogy. L'Année Sociologique 2004, 52(2): 625–629
Privacy and Public Expression. Cités 2003, 15: 31–4
Current teaching
Part II Ethics: Autonomy, Capacity and Consent (2013-2014)
(Lecture Notes available electronically on request.)
Contact details
Postal address: Faculty of Philosophy, Sidgwick Avenue, Cambridge, CB3 9DA
E-mail address: lr271 @ cam.ac.uk
Website:  www.radoilska.com