IT, Printing and Copying  Facilities
The library has a small PC area next to the library issue desk. PCs are on height adjustable desks that you can work at when sitting or standing.
You need your UIS password to login to the computers. For more information about passwords see here. Please note that access to the PCs is not currently permitted due COVID-Security measures.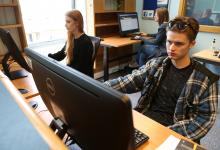 Wi-fi is available in the library via UniOfCam or Eduroam.
To connect to UniOfCam you will need your Raven log-in and password. To connect via Eduroam you will need to collect a UIS token. Details on how to do this are available via the University Information Services website. You can also use Eduroam to connect to wifi when visiting any other participating institutions in the UK or abroad.
You are welcome to use the power sockets to plug in your laptop or mobile device.

Printing, scanning and photocopying
The library has a multifunctional device (MFD) for printing, scanning and photocopying. You will need to purchase credits to use it, either online (£5 minimum) or from the library staff (£1 minimum).  
For your safety and that of other users, please ensure wipe down the MFD before and after use using the cleaning materials provided.  You should also sanitise your hands before and after use.
Charges are:
Black and white A4: 4p per sheet (whether double- or single-sided)
Colour A4: 30p per side.
Black and white A3: 10p per sheet.
Colour A3: 60p per side
Scanning is free.
Wireless printing is also supported using an eduroam or UniofCam connection, both depend upon a strong and good quality signal. Please note, in some instances what appears to be a good signal is not and the print job fails. Should this happen, please retry in another location, which is closer (if possible) to a wireless access point.