Please note that following the announcement of the UK lockdown at the start of January 2021,  the Faculty was required to close the Postgraduate Centre, the study spaces and all other rooms in the Raised Faculty Building until further notice. Booking of the study spaces in the Postgradate Centre, and of Postgraduate Common room, will now re-open from June 1st 2021.
The Faculty uses an online room booking system called Booker, which is a University wide room booking system. If postgraduate students would like to book one of the Faculty's postgraduate common room for reading groups/meetings, or would like to book a desk in the postgraduate centre, please use the following link to the system:
https://booker.eventmapsolutions.com/Account/Login
Once you have clicked on the link, you will be taken to a login page, where you'll need to enter your University email address and then to a second page where you'll need to enter your Raven password.
Please see the user guides here:
Queries about using this system should be addressed to phil-admin@lists.cam.ac.uk
Faculty guidelines for discussion
Postgraduate students who are booking rooms to use for reading groups or discussion groups are asked to refer to the Faculty's guidance for discussion in teaching and research. These can be found here.
Safety notes
Access to facilities is restricted due to COVID-19 safety measures.
Please note that any postgraduate students booking to use rooms, or desk space in the postgraduate centre, must adhere to guidance for users of the whole of the Raised Faculty Building, found here:
https://www.phil.cam.ac.uk/system/files/documents/student-overview-rfb-philosophy-hs.pdf
As well as University guidance on wearing face coverings, found here:
https://www.cam.ac.uk/coronavirus/stay-safe-cambridge-uni/wear-a-face-covering
Students using rooms or shared spaces in the Faculty are responsible for opening windows to provide sufficient ventilation, and for closing these again where you have booked a session that finishes at the end of the day.
The person booking a room for a reading group or other meeting is the designated leader of the meeting. The leader must ensure that all attendees comply with social distancing and other COVID safety rules. The leader must keep a list of the names and email addresses of attendees for 21 days, and be prepared to provide this data to NHS Test and Trace if requested.
If you are a student with a high risk assessment, please consult your college to check whether attending an activity on Faculty or other University premises is appropriate for you
Photos of rooms available
Please see below for photos of the rooms currently available for booking, and how they appear during the pandemic, due to safety measures which have been put in place.
Supervision room 311 – Maximum capacity of two users - Not currently available to book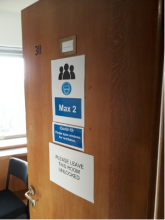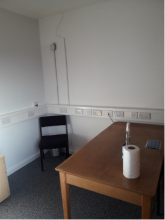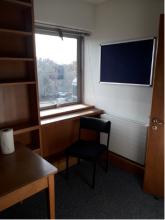 Supervision room 315A – Maximum capacity of two users - Not currently available to book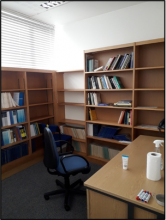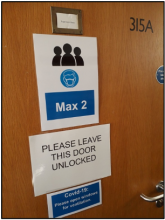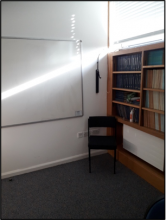 Faculty Board Room – Room 323A - Maximum capacity of 5 users - Not currently available to book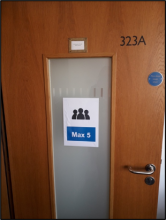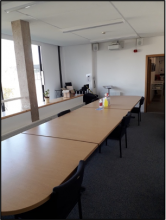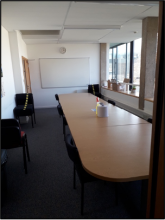 Postgraduate Common room – Room 322 – Maximum capacity of 7 users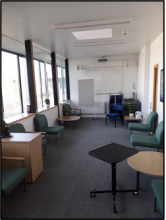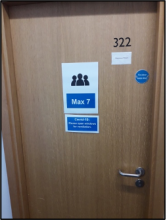 Desk space bookable in the Postgraduate Centre – 7 spaces available
Please note that desks taped off with yellow/black tape are not to be used.
Please note that it is ONLY possible to book slots from 8.30-12.30 and 1.30-5pm. Users MUST vacate the desk space immediately at the end of their session time (or earlier), to allow time for departures to be made before students come in for the next session. Please do not hang around before or after your assigned slot. To provide extra ventilation in the Postgraduate Centre, students using the centre must open the window by the printer/MFD, or the window by the lockers.