Please note that booking of the study spaces in the Postgradate Centre, which was re-opened from June 1st 2021, will continue to be available from October 2021. The Faculty Board Room, and supervision rooms are also now bookable. The Postgraduate Common Room will mainly be designated as a break out space for users of the Postgraduate Centre, and will not generally be available for booking. The Common Room can be used by postgraduates to socialise, and eat and drink,  and as such, face coverings will not be required in this room. The maximum room capacity for the Common Room is 7 people, who need to be socially distanced. Please note that the possibility to book rooms within the Faculty may be liable to change, due to Covid safety requirements.
The Faculty uses an online room booking system called Booker, which is a University wide room booking system. If postgraduate students or Faculty Staff would like to book the Faculty's Board Room for reading groups/meetings, a supervision room, one of the Faculty's two 'Owls' to facilitate a hybrid meeting, or would like to book a desk in the postgraduate centre, or a Faculty Zoom license timeslot, please use the following link to the system:
https://booker.eventmapsolutions.com/Account/Login
Once you have clicked on the link, you will be taken to a login page, where you'll need to enter your University email address and then to a second page where you'll need to enter your Raven password.
Please see the user guides here:
Queries about using this system should be addressed to phil-admin@lists.cam.ac.uk
Faculty guidelines for discussion
Postgraduate students who are booking rooms to use for reading groups or discussion groups are asked to refer to the Faculty's guidance for discussion in teaching and research. These can be found here.
Safety notes
Access to facilities is restricted due to COVID-19 safety measures.
Please note that any postgraduate students or staff booking to use rooms, or desk space in the postgraduate centre, must adhere to guidance for users of the whole of the Raised Faculty Building, found here:
https://www.phil.cam.ac.uk/system/files/documents/student-overview-rfb-philosophy-hs.pdf
As well as University guidance on wearing face coverings, found here:
https://www.cam.ac.uk/coronavirus/stay-safe-cambridge-uni/wear-a-face-covering
Students using rooms or shared spaces in the Faculty are responsible for opening windows to provide sufficient ventilation, and for closing these again where you have booked a session that finishes at the end of the day.
The person booking a room for a reading group or other meeting is the designated leader of the meeting. The leader must ensure that all attendees comply with social distancing and other COVID safety rules.
If you are a student with a high risk assessment, please consult your college to check whether attending an activity on Faculty or other University premises is appropriate for you
Photos of rooms available
Please see below for photos of the rooms currently available for booking, and how they appear during the pandemic, due to safety measures which have been put in place.
Supervision room 311 – Maximum capacity of two users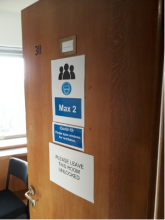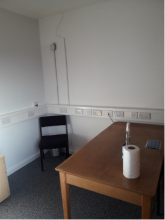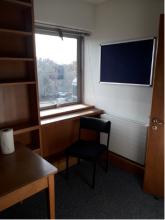 Supervision room 315A – Maximum capacity of two users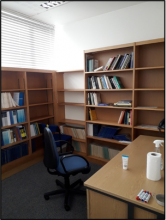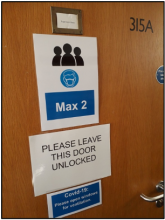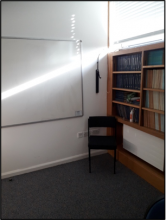 Faculty Board Room – Room 323A - Maximum capacity of 5 users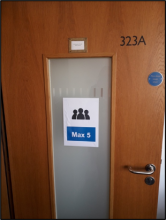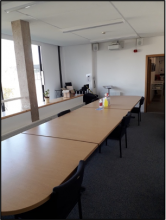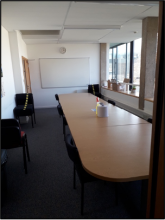 Desk space bookable in the Postgraduate Centre – 7 spaces available.
Those using the desks are asked to sit diagonally opposite other users, to help maintain social distancing.
Please note that it is ONLY possible to book slots from 8.30-1pm, from 1.30-6pm, and from 6.30 - 11pm. Users MUST vacate the desk space immediately at the end of their session time (or earlier), to allow time for departures to be made before students come in for the next session. Please do not hang around before or after your assigned slot. To provide extra ventilation in the Postgraduate Centre, students using the centre must open the window by the printer/MFD, or the window by the lockers.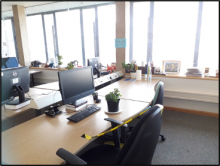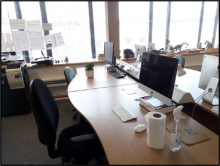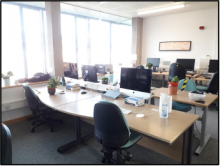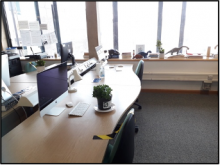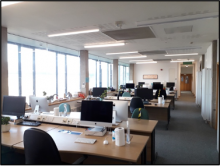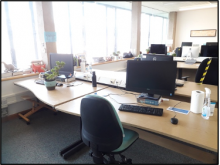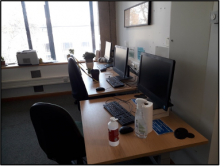 The Faculty has two Owl cameras which Postgraduates and Faculty Staff can book to use, via the Booker system, to help facilitate hybrid meetings/reading groups. Currently both Owls (referred to on the booking system as 'Wild') can be booked by Postgraduates and Faculty Staff for use in the Faculty or other University or College rooms, which do not otherwise have equipment to facilitate hybrid meetings. The Owls have a carry case for portability and the dimensions are height: 27.3 cm, diameter: 11.1 cm and weight: 1.2 kg. Where an Owl has been booked out, the person using it would need to collect it from the Faculty Library between 9am - 1pm and 2pm - 5pm, Monday to Friday during term time.  For opening hours outside term time see the Library web page for further details. The Owl should be returned as soon as possible after the booking, to allow other users to access it. If a booking is taking place after 4pm on any one day, the person booking out the Owl must make sure that it is stored securely overnight and returned the following working day. Guidance on using the Owls can be found here.