The Faculty is located in the Raised Faculty Building in Sidgwick Avenue, Cambridge, CB3 9DA. The Sidgwick Site is about 10 minutes walk from the centre of Cambridge.
Maps
Driving and Park & Ride
Buses and Park & Ride
Taxis
Rail
Coach
Air
More Information
How to get to us using sustainable means of travel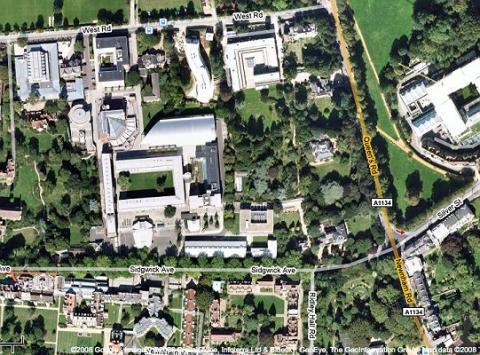 View Larger Map
---
Maps
Driving
The most direct way to the Sidgwick site for visitors coming from outside the city is from Junction 12 of the M11:
Please note that parking at the Sidgwick site is severely restricted, even for University staff. Unless you can arrange a permit in advance of your visit, you should use the (few available) metered bays on Sidgwick Avenue, the city centre car parks, or the Park & Ride facility.
The following organisations provide route planning services from anywhere in the country.
Buses and Park & Ride
The Universal bus service run by Whippet runs every 15 minutes from Mondays to Fridays (every 20 minutes on Saturdays and every 30 minutes on Sundays) between Madingley Park & Ride and Addenbrookes (Note: the bus only goes as far as Cambridge Railway Station on Saturdays and Sundays and doesn't go to Addenbrookes at the weekends). The bus service now includes evening services up until almost 10pm (weekdays and Saturdays) and a Sunday service every 30 minutes until around 7pm. For University card holders, the fare is just £1.  The bus stops at several University sites and the city centre: alight at West Road for access to the Sidgwick Site.  See the timetable and bus stops or more information about the Universal bus service.
Cambridge has an extensive Park & Ride scheme, which operates from a number of useful sites around the city, and is recommended.
Taxis
If you need to book a taxi, you can use a local taxi firm; ask for the Faculty of Philosophy in Sidgwick Avenue.
Rail
The main Cambridge station (not Cambridge North station) is a mile or so outside the city centre. There is a fast and frequent service from London King's Cross; connections from the north are usually made via Peterborough and Ely or Stevenage.
Coach
Coach services arrive at Parkside in the City Centre.
Air
The nearest international airport is London Stansted, with the other London airports, Heathrow, Luton and Gatwick all in easy reach.
There are regular coach services between the airports and Cambridge which operate from Parkside in the city centre.
Rail services come direct to the main Cambridge station (not Cambridge North station) from Stansted, Birmingham and Manchester. Rail connections from central London are good: From Heathrow take the tube (Piccadilly Line) to King's Cross, and from Gatwick either get a train straight to King's Cross Thameslink, or go to Victoria and then on to King's Cross via the tube (Victoria Line).
You can also travel by rail to Cambridge from Birmingham and Manchester airports.
More Information
For more details about travelling to Cambridge, including phone numbers and web sites, see the University's Local Area Information. 
Need somewhere to stay? Find hotels, B&Bs, guesthouses and hostel accommodation here.