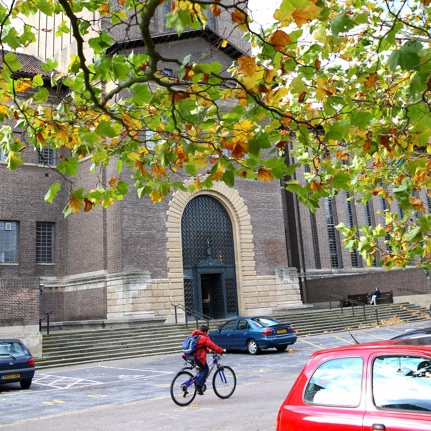 Many philosophers pass through Cambridge each year for short periods, meeting up in informal ways with friends and colleagues in the Philosophy Faculty. The following brief remarks are addressed to those who wish to establish a more formal status as an Academic Visitor to the Faculty.  The Faculty has a limited number of Academic Visitor places each year, and these are intended for academics who are employees of other institutions.  Please note that there is a maximum length of stay of one acdemic year.
Academic Visitors are normally academics on leave from home institutions who are offered the use of libraries and other faculty and university facilities in Cambridge.
Post-doctoral fellows whose research is funded via grants administered within the university do not count as academic visitors.
Academic Visitor status is NOT open to PhD candidates. Information for Visiting Graduate Students can be found here.
Facilities
As an Academic Visitor, you will be able to attend any lectures and seminars in the University, use shared desk space in the libraries, and join in the life of the Faculty.
Fee
There is a charge of £600 (plus 20% VAT) per term. It is possible, in special circumstances, to apply for a reduction of this fee and any prospective visitor who wishes to plead special hardship may make such an application. 
Supervision 
The offer of Academic Visitor Status does not include any formal discussion or supervision of your work during your visit to the Faculty, but you are welcome to discuss your work informally.
Procedure
If you would like to apply for Academic Visitor Status 
Write to philadmin@phil.cam.ac.uk with a short outline of the proposed research you wish to carry out in Cambridge, your estimated arrival and departure dates, your full CV, and a copy of your passport.
We also need two academic references, one of which should make clear your current position in your university or institution. You should ask your referees to address their references to ekh46@cam.ac.uk.
Please note the deadline for applications below:
Application Timetable 
Deadline                                                 First Term of Attendance 
3rd October 2023                                     Lent Term 2024 - from 16th January 2024
 3rd October 2023                                   Easter Term 2024 - from  23rd April 2024
15th January 2024                                  Michaelmas Term 2024 - from 8th October 2024 and onwards
After all applications have been reviewed the Faculty Office will inform you whether the Faculty is able to offer you Academic Visitor status.
The Home Office has introduced rules on the treatment of Academic Visitors and you must check with the British Embassy in your home country whether you need permission from the UK Border Agency and/or a visa. Academic Visitors from outside the EU/EEA must not stay in the UK for more than 12 months. Please allow enough lead time to obtain your Visa. 
In order to make the most of a visit to the Faculty applicants must already be fluent in written and spoken English.
PLEASE NOTE: Individual lecturers are not in a position to grant Academic Visitor Status to prospective visitors and should not be contacted directly. All applications have to be considered by members of the Faculty Board.
Deposit 
If you are offered Academic Visitor Status you will be asked to pay a deposit of £200 (plus 20% VAT = £240). This deposit must only be paid if an offer of Academic Visitor Status has been made by the Faculty at which point you will be given instructions on how to pay the deposit.
Accommodation
We regret to say that the Faculty is unable to help with accommodation but the University does have an Accommodation Service that might be able to help you. Visit their webpage www.accommodation.cam.ac.uk