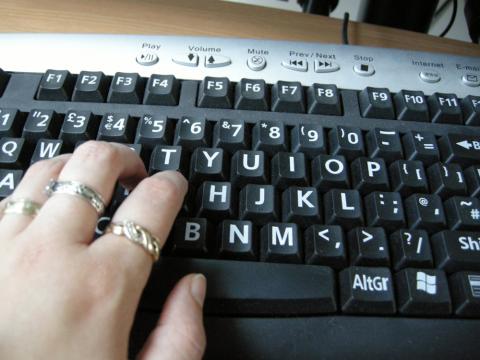 Desktop Services Computers
Please note: there is a no eating and drinking policy in the Library and the Postgraduate Centre.
The Faculty of Philosophy subscribes to the The University Information Services (UIS) Desktop Services (formerly PWF or MCS). Computers in the Library are available for use to all students and staff with a Desktop Services login during Library opening hours. These computers are for literature searches and e-mail.
There are five PCs running Windows available in the Library for use by staff and students. One PC in the Library is setup mainly for use by disabled persons and has TextHelp Read & Write software installed to assist in the creation and reading of documents. Anybody can use this computer when it is not required by a person with a disability.
The Postgraduate Centre is open during office hours and at other times is accessible for staff and postgraduates by swipe card. There are ten PCs running Windows or Linux and four Apple iMacs, one of which has scanning facilities attached.
All students are given a DS account by the University Information Services (UIS) and are sent a login ID and password. Other members of the University may apply for a Desktop Services account by printing and completing this form. Application forms are also available from the Faculty Office.
In an effort to reduce the amount of electricity used within the Faculty, staff and students are asked to shutdown computers in the Library and Postgraduate Centre after use.
Follow UIS News on Twitter:
Printing
Printing is available from DS computers. In the library the printer is called phil_lib_lj. The printer for the Postgraduate Centre is phil_grad_lj. Print credit can be purchased online: https://ecredit.ds.cam.ac.uk/ or on the DS PC's by going to 'Utilities' (in Programs folder), click on 'eCredit' icon and follow the instructions (minimum payment online is £5). Print credits can also be purchased in cash at the University Information Services Reception (Roger Needham Building, West Cambridge Site) – minimum cash payment is £1. Printing is charged at 4 pence per black and white sheet of A4 paper.
Printing from a non DS computer - DS-Print PaperCut - printing to DS printers is also possible from a non DS computer connected via Eduroam. See the DS-Print PaperCut instructions for more details.
UniOfCam Wireless Network
The University wireless network called UniOfCam is available within the Faculty in the Library area on the second floor and Postgraduate Centre and Old Library on the third floor. A Raven account is required in order to gain access to the internet using the wireless network. For further information see the UniOfCam help page.
Eduroam is an international initiative that allows members of educational establishments to gain internet access at participating sites. See the University Information Services (UIS) web page for details on how to use the Eduroam service at Cambridge.
Manuals & Courses
At the beginning of each academic year there will be an introductory talk for postgraduates on the computer facilities available at Philosophy.
The University Information Services (UIS) offer a vast range of training courses (both taught and self-taught) covering access to the Internet, the World Wide Web, e-mail and the use of word processors, bibliographic software (EndNote), Presentation Software (PowerPoint) and many more.
Information and documentation regarding software and other University IT services is available from the University Information Services (UIS) Service Catalogue.
Library Catalogue Computers
There are two library catalogue PCs which do not need a login and password, they are located near the door to the Library quiet area. They are for literature searches only.
Rules & Guidelines
You are advised to read and take note of the Rules and Guidelines laid out by  University Information Services (UIS). All users of the Computing facilities in the Faculty of Philosophy are bound by the terms of these rules. In addition the Faculty provides supplementary rules and guidelines for computer users as follows: IT User Policy, Data Policy and Faculty IT Strategy. (note: documents are Raven password protected)
The Faculty's Continuity Plan is also available online (note: Raven password protected).
Suggestions & Help
If you have any suggestions or need more help or advice please e-mail the computer.officer@phil.cam.ac.uk.