The Human Mind Conference
The Møller Centre, Cambridge
27-29 June 2017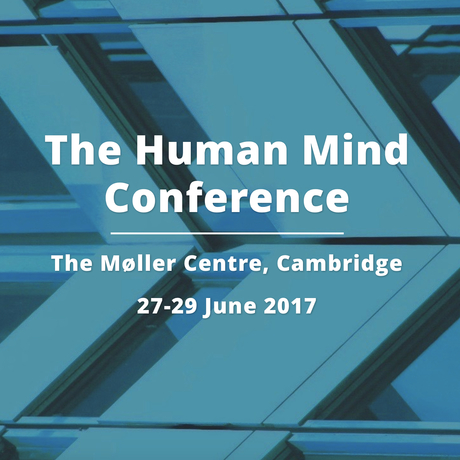 The Human Mind Conference is an international, interdisciplinary event bringing together a wide range of experts from across the humanities and cognitive sciences to discuss key aspects of mental life and experience. The Human Mind Conference will provide a major statement on the current state of knowledge in the study of the mind, and it will identify future directions of research for the years to come.
The conference will feature four sessions, each on a live topic in the study of the human mind:
    • Brain & World: Perception & Consciousness
    • The Human Agent: Intention & Action
    • Self & Other: Social Cognition & Communication
    • The Subject's Point of View: Intentionality & Emotion
The registration process is now open. To register, please visit our eSales page here.
Speakers
Huda Akil, Robyn Carston, Andy Clark, John-Dylan Haynes, Frances Egan, Chris Frith, Philip Gerrans, Patrick Haggard, Cecilia Heyes, Richard Holton, Bob Kentridge, Mike Martin, Uta Noppeney, Lucy O'Brien, Anil Seth, Dan Zahavi.
Chaired by: Nicola Clayton, Uta Frith, Pierre Jacob & Barry Smith.
Call for Posters
We invite abstracts for poster presentations on any topic related to the conference themes from PhD students and early career researchers (no more than 5 years from completion of PhD). Abstracts should not exceed 500 words and should be suitably prepared for submission through EasyChair. To submit, visit our website here.
The deadline for receipt of abstracts is 21st April 2017. Authors will be notified within the following two weeks. If you have any queries, please get in touch by email.
We strongly encourage submissions from those from under-represented groups in philosophy, psychology, and neuroscience.
Registration to the conference will be free for poster presenters.
Organization
The Human Mind Conference is jointly organized by New Directions in the Study of the Mind Project at the University of Cambridge, and The Human Mind Project, School of Advanced Study, University of London. It is supported by The John Templeton Foundation and the Higher Education Funding Council of England (HEFCE).
Tim Crane (Cambridge)
Colin Blakemore (London)
Mattia Gallotti (London)
Anna Hopkins (London)
Alexander Greenberg (Cambridge)
Date:
Tuesday, 27 June, 2017 - 09:00

to

Thursday, 29 June, 2017 - 17:00