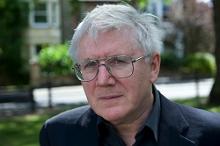 Raymond Geuss works in the general areas of political philosophy and the history of Continental Philosophy.
Principal academic publications
The Idea of a Critical Theory (Cambridge University Press,1981)
Morality, culture, and history (Cambridge University Press,1999)
History and illusion in politics (Cambridge University Press, 2001)
Public goods, private goods (Princeton University Press, 2001)
Glück und Politik: Potsdamer Vorlesungen (Berliner Wissenschaftsverlag, 2004)
Outside ethics (Princeton University Press, 2005)
Philosophy and real politics (Princeton University Press, 2008)
Politics and the imagination (Princeton University Press, 2010)
A world without why (Princeton University Press, 2014)
Reality and its dreams (Harvard University Press, 2016)
Changing the subject (Harvard University Press, 2017)
Who needs a world view? (Harvard University Press, 2020)
A philosopher looks at work (Cambridge University Press, 2021)
Not thinking like a liberal (Harvard University Press, 2022)
Papers, Comments, Interviews, Reviews
`Rabelais and the low road to modernity' in Princeton History of Modern French Literature ed. Prendergast (Princeton University Press, 2017)
'Republik, Markt, Demokratie'; Afterword to Die Antipolitischen, Jacques de Saint Victoire (Hamburger Edition, 2015)
`Richard III : Déchirement tragique et rêve de perfection' in Richard III :Loyauté me lie ed. Garutti et Lambert-Wild. (Les Solaires intempestifs. 2016)
'Nietzsche's Philosophical Ethnology' in Arion (winter 2017)
'Lecturing on Nietzsche' in Arion  (summer, 2017)
`Die Hoffnung' in Auf Nietzsches Balkon III ed. Sarah Bianchi (VDG, 2017)
'Nietzsche's Germans' in Cambridge Companion to Nietzsche ed. Stern (Cambridge University Press, 2019) 
'Review of Molière's Tartuffe (adapted by Christopher Hampton, at Haymarket Theatre)', please click here
'Normativität in der Kritischen Theorie der Politik' in

 

Kritische Theorie der Politik

 

ed. U. Bohmann and P. Sörensen (Suhrkamp, 2019)
'Realism, yet again' in Debating Critical Theory ed. Christ, Lepold, Loick, Stahl (Rowman and Littlefield, 2020)
'Politik und Wert' in Nietzsches Perspektiven des Politischen ed. Ruehl and Schubert (de Gruyter, forthcoming)
Other:
'Philosophy and the Economic Crisis' (Lecture UEA, Thursday 8 November 2012)
Seven lectures on Nietzsche, Michaelmas 2013
Eight lectures on Marxism, Michaelmas 2013
Mr Bricolage, December 2013
Innenminister, December 2011
Baltimore, January 2014
Lucretius (January 2014)
Evil (February 2014)
Toast (March 2014)
'Er [Kant] ist unbrauchbar' in 'Was bleibt von Immanuel Kant?' Die Zeit 20.12..2015
`Woher kommt die Wut der Briten?' Süddeutsche Zeitung 28.06.2016
`When inspiration fails' in Cambridge Literary Review, vol. 10 (2017)
'Gedichtszyklus' in Auf Nietzsches Balkon III ed. Bianchi (VDG, 2018)
`Pater Krigler' in Warum Marx?  (internet-journal Soziopolis 05.05.2018)
Conversation on A World without why in fourbythree [internet journal]
'Ten minutes on nihilism' in fourbythree [internet journal] 
'Eine Republik der Diskussion' in Soziopolis.de (18.06.19)
[Translation into English to appear in 'The Point']
'The last nineteenth century German philosopher' in Verso.Blog (August 2019)
'Fieberbaum' in Cambridge Literary Review vol. 12 (2020)
'Auf dem Philosophenkongreß.....' [short text in German forthcoming on the web-page of Hamburger Edition]
'The pleasures of using "whom" correctly' : website of the journal Arion
'Boris Johnson: Der Abräumer' in Die Zeit 15 January 2020-06-14
`Goethe or Horace', in Quarantine Journal  (The Point internet), 19 March 2020
'Like Night' in Quarantine Journal (The Point internet), 2 April, 2020
' Loss of public space in a pandemic' : Cambridge Reflections: Covid-19, 18 May, 2020 (internet)
'You don't need an identity' in iai news, issue 96, 19 May 2021-05-23
`Der Zusammenbruch der Bewußtseinstheorie' (review of Dieter Henrich Ins Denken ziehen) In Information. Philosophie (Heft 3/2021)  (in German)
'What's wrong with liberalism?'  Interview in THE 12.05.22
'Responding in times of bereavement' in There and not there: Chronicles of art and loss, by Tim Mathews (Ma Bibliothèque, London, 2022)
'Autopsie und Polyphonie: Die Unsichtbarkeit der Geschichte'  forthcoming in Soziopolis.de
Interview with Oxford Political Review (May 2022, Internet)
For CV please click here.
Contact Details:
Raymond Geuss is not himself on e-mail and does not respond to e-mails addressed to him c/o the Faculty Office. Please do not attempt to use the secretarial staff in the Faculty Office as an indirect e-mail conduit; such attempts will be unsuccessful and will merely add to their work-load unnecessarily.
Postal address: c/o Faculty of Philosophy, University of Cambridge, Sidgwick Avenue, Cambridge CB3 9DA, UK.